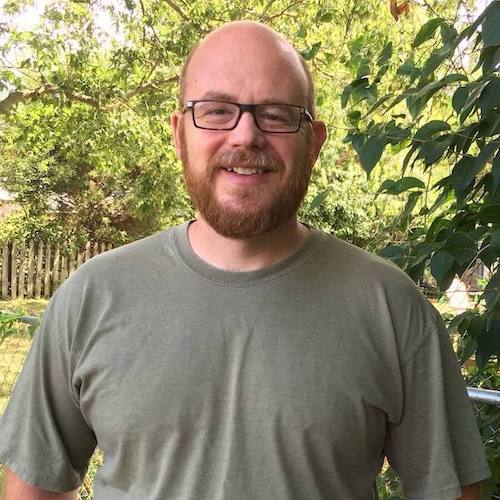 Tim Miller
I was born in Gallup, New Mexico. My dad grew up attending a Methodist church, and my mother's spiritual roots were Southern Baptist. As a child, my parents regularly took me to church on Sundays. We went to a number of different churches during my early years, and each summer, through no choice of my own, I became a Vacation Bible School gypsy of sorts, going to different churches from one week to the next as my parents tried to figure out how to keep me busy during the summer months. I don't know how many times I sang the song, "The Gift Goes On," each summer!
When I was nine years old, and now living in Texas, a friend of mine decided to receive baptism. His decision created curiosity in me, and soon I told my parents that I myself wanted to follow Jesus. After hearing from my pastor about what it means to follow Jesus, I made a public confession of faith in our local church, followed by baptism.
It wasn't long after this that tragedy struck my family. My father had a bad temper and was becoming increasingly violent toward my mother, to the point that one night, for fear of her safety and ours, my mom hurriedly took me and my two younger sisters aboard a Greyhound bus, on which the four of us made our way over the next two days to Indiana, where my grandparents lived. My parents soon divorced, thus beginning a decade-long chapter of my life in which I struggled with deep hatred and resentment toward my father. By God's mercy, I was later able to forgive him. Still, the wounds were deep, and even to this day there are moments when I feel their crippling effect acutely. But praise be to the living God, who is "a father to the fatherless" and a "defender of widows" (Ps 68:5). He is such a faithful Father, and He has never left my side. He has dealt with me so patiently and kindly throughout my life. To Him belongs all praise and glory.
In Indiana, we lived with or near my grandparents until I graduated high school. Although my grandmother was a staunch Southern Baptist, there were not many Southern Baptist churches in our town, and so she and my grandfather took us a local Christian church. Over the next few years I attended church camp each summer. These summer camps played a vital role in my spiritual formation during my teen years, and words cannot express how thankful I am for them. I truly don't know if I would be following Jesus today apart from God's work in my life through those summer camps.
Despite the godly influence of church camp during these years, sadly, and to my shame, during my first two years in high school I lived in compromise with this evil age and its deceits. Yet God was merciful to me, the chief of sinners. I rededicated my life to Jesus the summer after my sophomore year, and from that point on there was no turning back. I was a captain on the varsity football team my junior and senior years of high school, and I became a Christian leader in my high school.
After graduating high school, I began attending classes at Georgetown College, in Georgetown, KY. During my college years, some of the strongest Christians on faculty were in the Philosophy Department. I soon found myself overcome with an insatiable thirst for truth. I also love history, and so I decided to do a double major in history and philosophy. While my history professors, on the one hand, taught me the importance of engaging in sound historical investigation, my philosophy professors, for their part, stretched my mind to the limit in their efforts to train me and my classmates in critical thinking. During this time, I was also greatly influenced by some missionaries who lived near our college campus. Through them, God stirred up in me a deep passion for cross-cultural missions. The second half of my sophomore year, I began dating Emily, who was one year ahead of me, and who also had a heart for missions. We were married the following year, and by the time I graduated, were ready to give our lives as missionaries. We have been traveling the world ever since.
Emily and I decided that before going overseas it would be good to receive some cross-cultural training. I spent the next two years working on an MA in Intercultural Studies at Fuller Theological Seminary in Pasadena, CA. It was during my time at Fuller that I became more regularly exposed to, and increasingly fascinated with, issues specifically related to Bible translation. It was also during this season that a friend of mine showed me how to play the first song I ever strummed on a guitar: "Jesus, Lover of My Soul." If people had told me at that time how much time and energy God would ask me to invest in these two areas in the days ahead, I would have thought they were absolutely crazy and probably would have run straight out of the room. And yet they have turned out to be a truly God-ordained means of grace for me and my family over the years, a source of strength in times of weakness and amidst a race of faith, hope, and love far more intense than anything I could have ever anticipated as a twenty-three-year-old. Through this website, I pray that the resources that have come forth in context to these two spheres of ministry would be a source of great strength to you, too.